July 14th 2023
Graduation day for Ali
Well done and thanks Dr. Ali Trigg. A very hard working PhD student with lots of perseverance (you know exactly what we mean!). 
---
June 10th 2023
Lab GRC trip
A few of use were lucky to attend the second GRC on Mechanisms of Microbial Transcription. A fantastic
meeting and we were lucky to be able to present work across all areas of the lab.
---
March 21st 2023
Congrats Ali!
A big well done to Dr. Ali Trigg who defended her PhD work today in a viva with Jess Blair and James Connolly. Ali has been working on newly identified regulatory targets for the multiple antibiotic resistance activator protein, MarA. She has found a link between outer membrane and cell wall regulation that's important for maintaining cell barrier function to reduce antibiotic uptake. 
---
December 5th 2022
Graduation day for Alistair
Today it was finally time to say farewell to Alistair after his graduation ceremony. Thanks for all the hard work and good luck in your new position at GSK.
---
November 18th 2022
Grant success for David
David Forrest today got news from the Microbiology Society that he was successful in his application for a Research Visit Grant. David will be travelling to Cardiff in the new year to work with
Dr Mike Beeton on Mycoplasma species. David wants to try and understand how these organisms utilise DNA with an extremely high AT-content. 
---
September 17th 2022
Molecular Microbiology Conference in Brum
This week we (finally) held the 7th Molecular Microbiology conference in Birmingham. The meeting attracted close to 200 delegates over 2 days with talks covering diverse topics in mechanistic microbiology. The lab had great news when David was selected for one of the 3 poster prizes. You can
read about his award here. 
---
June 15th 2022
Congrats to Alistair
Well done to Alistair, who successfully navigated his PhD viva today. Al has worked on transcriptional
 regulators MarA, SoxS, Rob and RamA in Salmonella. His work identified new roles for these factors in controlling the production of biofilms in response to antibiotic and other stresses.  
---
April 27th 2022
Conferences are back
April was a busy month with lab members attending conferences for the first time in over two years. Lucas and David Forrest presented our work on V. cholerae gene regulation and B. subtilis gene silencing at the microbiology society annual conference before heading to the UK RNA polymerase workshop in Newcastle where Ksenia, Charles, David and Ali all presented their recent research. Next stop, Berlin in May.
---
March 25th 2022
Lucas passes with minor corrections
Lucas became the 9th lab member to defend their PhD last week in a viva with Profs Andy Roe and Pete Lund. Lucas' work on the V. cholerae regulator HapR is currently being prepared for publication and Lucas will be presenting his findings at the Microbiology Society annual conference next week in Belfast.
---
July 6th 2021
Tom defends his PhD successfully
Last Friday Tom became the latest member of their lab to defend their PhD thesis. Tom's work on cyclic-di-GMP signalling and gene regulation in V. cholerae was examined by Mark Buttner and Damon Huber. We wish Tom every success in his new post-doctoral position with the Cava lab in Sweden.
---
May 7th 2021 
Poster prize for David at the MicroSoc annual meeting

Big congratulations to lab member David Forrest who won the "most promising science" poster prize from Microbial Genomics at the Microbiology Society Annual meeting.  
---
November 30th 2020 
Well done Emily

Emily presented her PhD work in the Sir Howard Dalton Young Microbiologist of the year finals last week. Emily gave a great presentation and handled the questions excellently to take second place. A big well done from everyone in the lab.
---
November 20th 2020
Well done Alistair
The annual Biosciences Graduate Research School (BGRS) symposium ran
last week. Alistair presented his work PhD work funded by the Wellcome Trust AAMR doctoral training programme and won the prize for best talk in the area of microbiology and infection. Well done Al.  
---
November 5th 2020
Thank you Gemma
Last week we had to say farewell to our start technician Gemma Warren. After joining the lab in 2016 Gemma worked across all of our project areas and has completely overhauled our health and safety documentation. We're very sorry to lose her expertise but wish Gemma well in her new position at Nestlé back in her native north east.
---
July 28th 2020
Well done Dr Warman

Yesterday Emily successfully defended her PhD thesis under examination by Pete Lund (Birmingham) and Bianca Sclavi (Paris). Emily's PhD has been very successful, including winning multiple prizes and producing two papers, the second of which is currently in review. Emily has already start a Wellcome Trust funded post-doctoral position in the lab. 
---
June 26th 2020
Emily's Sir Howard Dalton award entry
As part of writing up her PhD Emily made a short presentation for the Sir Howard Dalton Young Microbiologist of the year prize. We thought it was too good not to put on our website! 
---
August 6th 2019
Gordon Research Conference
The lab a just back from the awesome, and first, Mechanisms of Microbial Transcription Gordon Research Conference, held in Lewiston, Maine, USA. The meeting is a reworking of a long running prokaryotic transcription conference previously organised by FASEB. Emily and James presented posters on their horizontal gene transfer and Vibrio cholerae projects. Dave gave a talk about the lab's work on promoters inside genes.
---
July 11th 2019
Rachel graduates!
A big well done to Rachel who graduates today as the lab's sixth successful PhD student and first to work on the multiple antibiotic resistance system. We'll be plundering Rachel's freezer box for years to come!
---
April 16th 2019
A prize for Emily!
The last few weeks were very busy with members of the lab attending the Microbiology Society annual conference in Belfast, the RNA polymerase conference in Oxford, and the MIBTP meeting in Warwick. All of our research areas were presented but a special well done goes to Emily, who won the poster prize from Microbial Genomics for best poster on the topic in Belfast.
---
March 15th 2019
Rachel defends her PhD successfully
Today Rachel successfully defended her PhD thesis on the molecular mechanisms coupling biofilm production to antibiotic treatment. She was examined by our very own Robin May and Thamarai Dorai-Schneiders from the University of Edinburgh.
---
March 13th 2019
Dave's inaugural lecture
Today Dave gave his inaugural professorial lecture. The topic was understanding what goes wrong in regions of bacterial genomes acquired by horizontal gene transfer.
---
February 1st 2019 
Rachel's last day
It's a sad day today as Rachel will be leaving us to take up a post-doctoral position at the University of Manchester. Rachel joined the lab just over four years ago as a BBSRC MIBTP student and has been working on understanding how transcription factors that regulate antibiotic resistance also control the ability of cells to form biofilms. Rachel has been a great member of the team and will be missed. We all wish her good luck in her new position.
---
January 31st 2019 
Emily is freezing!
Emily has traveled to University of Wisconsin-Madison this month to do some work in Bob Landick's lab.  Experiments are currently on hold with temperatures below -30 ºC closing the University! Hang in there Emily!
---
October 8th 2018
5th Genome Maintenance Meeting
This week Dave is heading for Oslo to present the lab's work on toxic DNA sequences at the 5th Genome Maintenance Meeting. On this occasion this is a joint conference with TTA3 (turning the tide of antimicrobial resistance) and aims to understand how genome maintenance systems impact on the development of AMR.
---
September 17th 2018
A busy week for lab talks
All of the research areas running in the lab will get a public airing this week. Dave and James are presenting our work on toxic DNA sequences and Vibrio cholerae at the VAAM symposium on gene regulation in Tutzing, Germany. Prateek is presenting our work on antibiotic resistance at the Young Microbiologist's symposium held by the John Innes Center in Norwich, UK.
---
July 10th 2018
Graduation day for Jai
A big congratulations to Jai who graduated today with her PhD. Over the past four years Jai has worked closely James to set up Vibrio cholerae work in our lab. This has required a huge amount of dedication on her part and she's done a fantastic job. Coincidentally, Jai's first publication came out today in mBio so you can read about what she's been doing over the past few years here.
---
June 29th 2018
Infection Biology for the 21st Century
Dave is at the  Humboldt University of Berlin's ZIBI centre this week attending the "Infection Biology for the 21st Century" conference.  He'll be presenting work done in the lab over the last few years on intragenic transcription and the toxic consequences for the cell.
---
June 6th 2018
The Biology and Physics of Bacterial Chromosome Organisation
This week three of the group (Dave, Rachel and Emily) were in the Netherlands to present our work at the 4th Biology and Physics of Bacterial Chromosome Organisation meeting. Emily did a fantastic job of presenting her work on intragenic transcription within horizontally acquired genes.
---
April 17th 2018
Microbiology Society Annual Conference

A short trip to the annual Microbiology Society conference this year that was held at the ICC in Birmingham. Prateek, Rachel, and Dave gave talks on the lab's work in the areas of antibiotic resistance, biofilms, and toxic DNA. In other news for April 2018, Wolves got promoted to the Premier League, which made Dave very happy!
---
February 23rd 2018
Lab babies!
Jai's having a busy month! After defending her PhD thesis two weeks ago she gave birth to twin boys last night. Mother and babies Alexander (left) and Emile (right) are doing well and we're all looking forward to meeting them. Congrats to Jai and Jimmy on their new family.
---
February 8th 2018
Well done Jai!
Today Jai successfully defended her PhD thesis in a viva conducted by Steve Busby and Jenny Ritchie. Jai is the lab's first PhD student working on Vibrio cholerae and so had to do a lot of work setting the system up. She's done a great job and we are very proud of her.
---
November 18th 2017
Naked Scientists
Dave will be discussing Prateek's paper with the Naked Scientists on BBC 5Live tonight. You can catch up with the conversation by downloading their podcast here.
---
November 13th 2017
New mechanisms of antibiotic resistance
Prateek's paper identifying new mechanisms of antibiotic resistance has been published. The research as received attention in the press with the Independent, Yahoo News,  and Science Daily picking up the story among others. The story behind the paper is posted at the Nature Microbiology Community page.
---
September 14th 2017
The 5th Molecular Microbiology conference
This wee the entire lab has been presenting their work at the 5th Mol Micro conference here at the IMI in Birmingham. Both James and Prateek gave excellent oral presentations whilst posters were presented by the rest of the group. Well done everyone!
---
July 18th 2017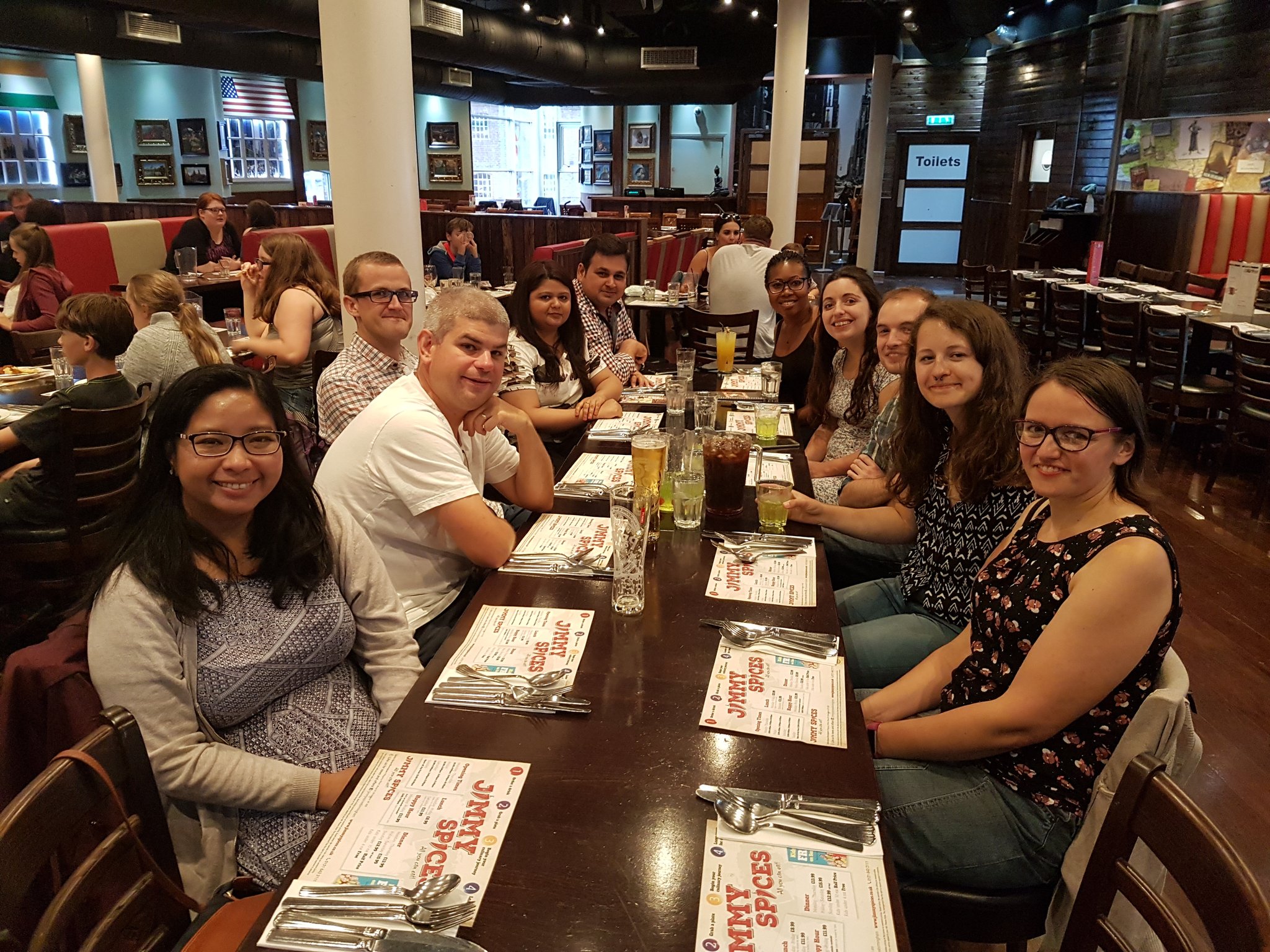 Well done to Prateek!
Last week Prateek successfully defended his PhD thesis during examination by Matthew Avison and Apoorva Bhatt.
Next up is Jai!
---
May 31st 2017
Jai heads to New Orleans
Jai is on her way to New Orleans to present her Vibrio cholerae story at ASM microbe 2017.
---
April 3rd 2017Microbiology Society annual conference
The lab headed to Edinburgh for the annual Microbiology Society meeting. Jai gave an oral presentation of her Vibrio cholerae work whilst, James, Rachel, Prateek and Lisa gave poster presentations.
---
September 23rd 2016
Jai wins prize for best poster at the M4 conference in Leicester 
Congratualtions to Jai for winning the best poster prize at the Midlands Molecular Microbiology Meeting (M4). Jai presented her work on lifestyle switching in Vibrio cholerae.
---
August 6th 2016
Jai heads for Boston
Today Jai is en route to Andrew Camilli's lab in Boston (Tufts University). Andrew is supporting our recently funded BBSRC project on lifestyle switching in Vibrio cholerae and Jai will receive training in the application of Andrew's MuGENT technology outlined in his recent PNAS paper here.
---
August 3rd 2016
Dave receives Colworth medal at Machines
on Genes IV
The 80th Harden conference, Machines on Genes IV, was held at ShrigleyHall Hotel near Manchester. Dave was honored to accept the Colworth medal in recognition of the lab's work and presented recent stories lead by Shivani and Lisa.
---
June 17th 2016
Lisa and Shivani are presenting at ASM 2016 in Boston
Lisa and Shivani have jetted off to the east cost to present their work on spurious transcription associated with toxic DNA sequences.
---
May 13th 2016
Well done Lisa!
Yesterday Lisa successfully defended her PhD thesis during examination by Remus Dame and Mark Webber.
---
April 4th 2016
Jai, Shivani and Prateek are presenting at the 28th UK RNA polymerase conference
We're off to York this week for the annual RNA polymerase meeting. Jai is presenting her work on V. cholerae virulence regulation, Shivani is talking about spurious transcription, and Prateek will speak about his new project on deciphering novel antibiotic resistance mechanisms.
---
March 22nd 2016
Dave and James are speaking at the Microbiology Society meeting in Liverpool
James will be presenting his PLoS Pathogens paper from last year and Dave will be giving the Fleming prize lecture.
---
December 9th 2015
Prateek Sharma wins prize for best poster at Bacterial Expressions II
Congratualtions to Prateek for winning the Bacterial Expressions II best poster prize. Prateek attended the meeting, held at the National Centre for Biological Sciences in Bangalore, last week. You can read about the work he presented here.
---
November 3rd 2015

Fleming Prize Lecture
Dave has been awarded the Fleming Prize for 2016 by the Microbiology Society. 
---
September 16th 2015
Lisa Lamberte wins prize for best talk at the M4 meeting
The lab spent the first part of this week at the second Midlands Molecular Microbiology Meeting (M4) in Nottingham. This year's meeting included talks from Mark Pallen (Warwick) on microbial archaeology, Gadi Frankel (Imperial) on
modelling bacterial infections, and  Mike Ibba (Ohio) on translation regulation. A personal highlight was Liz Sockett's  (Nottingham) fascinating overview of Bdellovibrio and the tricks they use to invade and consume prey bacteria.
Particularly pleasing for our group was Lisa's prize for the best talk from selected abstracts. You can see a shorter version of Lisa's winning presentation here.
---
July 17th 2015
Does academic impact equal social media influence?
Our newest recruit, Rachel Kettles, has been trying to find out how academic success equates to influence on the social media giant Twitter. She concludes that the only way to be a successful Tweeter is to fully embrace the medium; you can't rely on your H-index!
You can read about Rachel's analysis, done for the IMI as part of her BBSRC funded professional internship for PhD students, here.
---
June 26th 2015
Lisa is presenting her PhD at the 3 Minute Thesis Live Final
Three Minute Thesis (3MT®) is a research communication competition developed by the University of Queensland in 2008, in which doctoral researchers have just three minutes to deliver an engaging presentation on their thesis topic, its originality and its significance watch it here.
---
June 11th 2015
Dave and James present at our HFSP award "kick-off" meeting in Leiden
The Human Frontier Science Program (HFSP) is an international program of research support, funding frontier research on the complex mechanisms of living organisms. In 2015 we started work an HFSP reseach programme with Remus Dame (Leiden), Grant Jensen (CalTech) and Dieter Hermann (Heidelberg).
---
May 10th 2015
Dave is presenting Lisa and Shivani's work on toxic DNA at BacNET2015
The goal of BacNet15 is to cover most recent advances in key areas of bacterial network research, including information processing and signal transduction, uni- and multicellular behaviour, stress responses, small molecule signalling, cell biology, systems biology and bioengineering.
---
April 21st 2015
Lisa, Shivani, James and Prateek all present at the 27th RNAP workshop
Over the last two days Lisa, Shivani, James and Prateek all did a great job of presenting their work at the 27th annual RNA polymerase workshop. Overall a great meeting with much exciting new information about transcription and its control in all domains of life.
---
April 13th 2015
Lisa and Prateek present their work at BGRS2015
Lisa and Prateek will both be presenting their PhD research at this year's Biosciences Graduate Research Symposium over the next two days.
---
April 1st 2015
Prateek presents poster at SGM meeting
Today Prateek gave a poster presentation at the SGM meeting in Birmingham. The poster, entitled "Regulation of ETEC Heat-Stable Toxin expression in Response to Environment and Host"  details work done during the first year of Prateek's PhD, which is funded by the Darwin Trust of Edinburgh.
---
March 31st 2015
New IMI website launched
The Institute of Microbiology and Infection has launched its new website. Take a look at it here http://www.birmingham.ac.uk/research/activity/imi/index.aspx
---
March 30th 2015

Colworth Medal
Dave has been awarded the 2016 Colworth Medal by the Biochemical Society. Further details can be found here http://www.biochemistry.org/Awards/2016Winners.aspx.
---
January 16th 2015

Well done James!
After a three hour grilling, from Jeff Green and Andy Lovering, James Haycocks was awarded his PhD subject to minor corrections. James is starting a post-doctoral researcher position with us next week.